Se anche voi come noi avete ancora gli occhi a cuore dopo aver visto la Mac Magic of the night, sappiate che in contemporanea con questa collezione è uscita Mac Enchanted Eve e la Irrestibly Charming.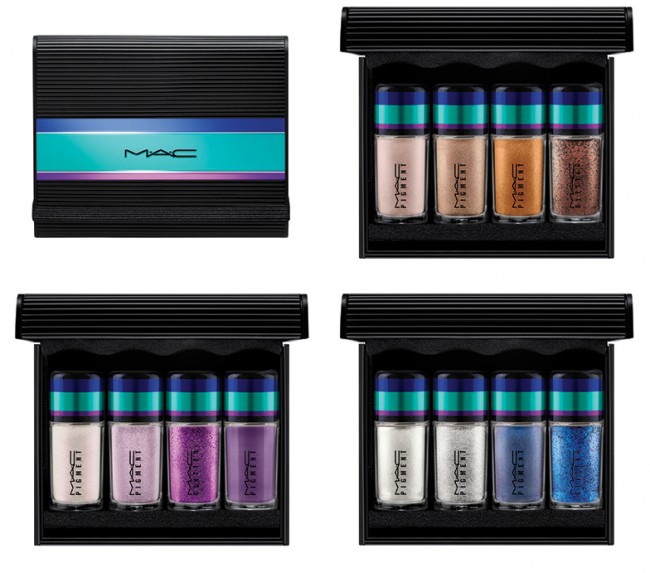 La Irrestibly Charming Mac è una collezione ricca di glitter e pigmenti per un look luminoso e d'impatto.
Tra i must have troviamo i Pigments and Glitter Kit (euro 40,00). I cofanetti sono molto glamour e presentano mini jar per un make up sfavillante. Troviamo:
– purple: al suo interno troviamo il pigmento Pink opal (bianco rosato), pigmento Kitschmas (rosa lavanda), il pigmento Rich Purple (viola scuro) e Fuchsia (radiant orchid)
– gold: pigmento Naked (beige), pigmento Blonde's Gold (sabbia dorato), pigmento Out all night (oro vibrante) e Bronze (marrone caldo ramato)
– blue: pigmento Warm Snow (bianco ghiaccio), Silver Fog (grigio argento), Naval Blue (blue jeans) e Blues (blu china).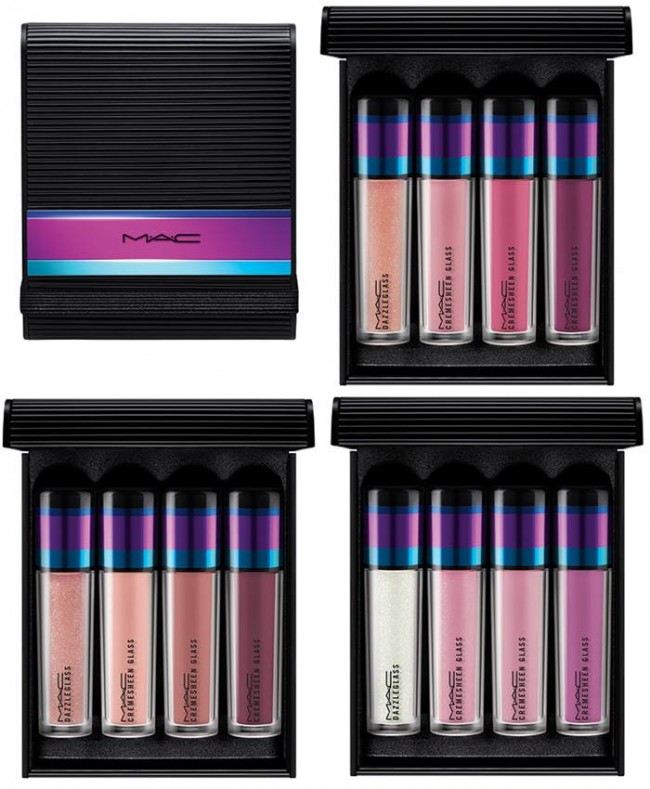 Per le labbra troviamo, al prezzo di euro 40, i cofanetti Lip Gloss Mac. Sono dei set lucidalabbra proposti in tre varianti di colore:
– pink: Just Superb (rosa confetto), Creme Anglaise (rosa carne), Colour Saturation (mauve scuro) e Sugarrimmed Milky, lipgloss lattiginoso ricco di glitter perlati.
– violet:Be an Angel, Darling( rosa baby),Date with Violet (rosa scuro), Narcissus( melanzana)e Like Magic, gloss nude con perlescenze argento.
– nude:Dress the Part (nude pallido), Deelight( nude beige medio), Deep Kiss( vinaccia scuro)e Dressed to Dazzle, lucidalabbra nude pescato shimmer.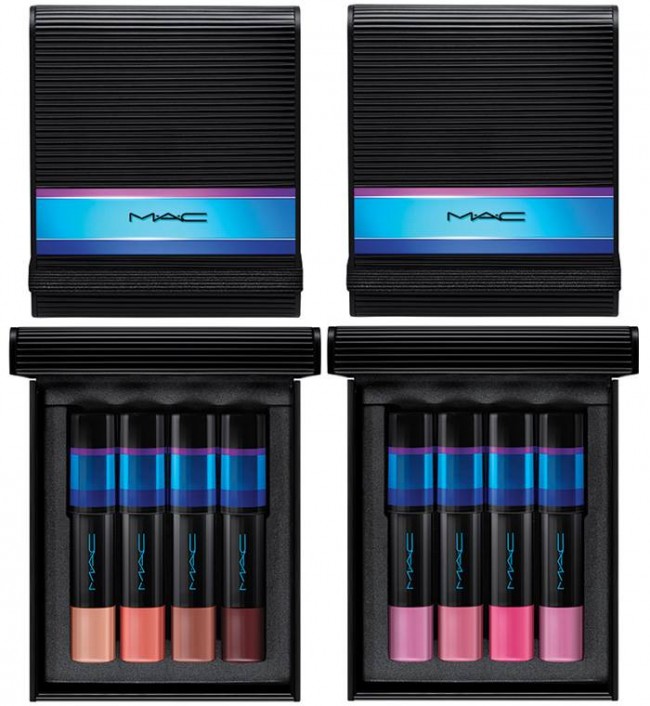 I mini patentpolish lip kit (euro 40,00) sono dei cofanetti che comprendono i matitoni labbra in stick per una bocca morbida, colorata e ultra brillante. Essi sono:
– pink: Pleasant (rosa fragola), Fearless (fucsia), Patentpink(rosa lilla) e Kittenish (rosa mauve)
– nude: Revved Up (pesca), Innocent (nude beige). Mojo-Maker (marrone) e Sultana (vinaccia)
Nella Mac Enchanted Eve troviamo invece palette occhi e viso, make up bag e set di pennelli. Insomma una collezione completa, ricca di cofanetti regalo da regalare e regalarsi.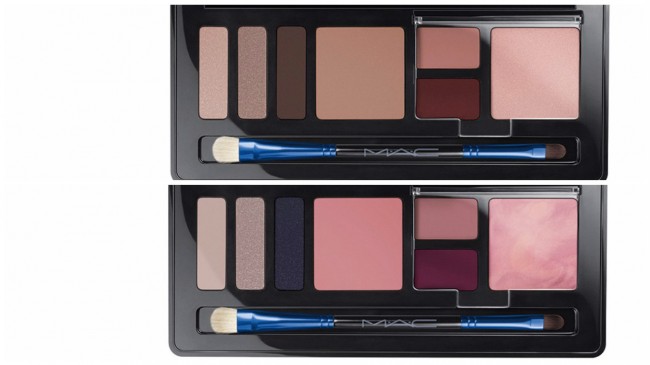 La face kit mac (euro 62,00) è una palette viso, occhi e labbra per un trucco completo. Al suo interno troviamo tre ombretti, una cipria, due rossetti,un cream color base e un pennello doppio. Due le varianti disponibili:
–Cool: Cozy grey, Chez What? e Rhythm & Blues come ombretti, Cheek to Cheek, Passing Fancy e Rebel e Feed the Senses come rossetti
– Warm: Deception, On a Dare e Showstopper come ombretti, Golde Tone, Cream Color Base Shell, Blankety e Paint the Town come rossetti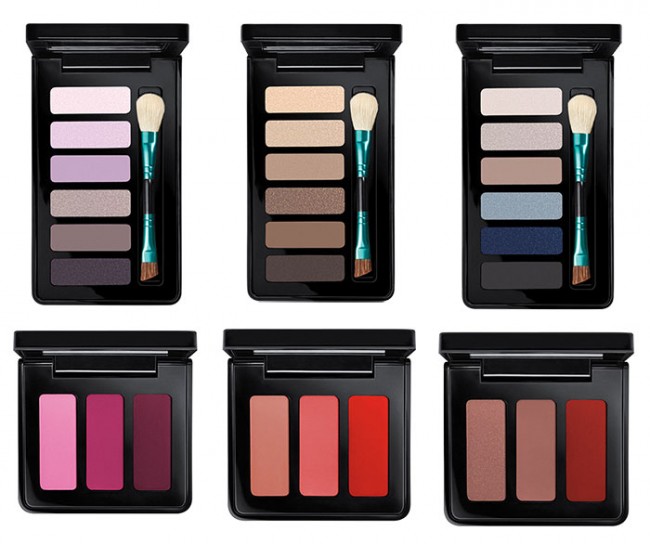 Gli eyeshadow Palettex6 (euro 44,00) sono le palette occhi che comprendo 6 ombretti declinati in diverse sfumature:
– warm: ombretti Seasonal Spirit, Moodmaker, Sax Appeal, Bewitchin', Charcoal Brown e Retrospeck;
– navy: Blacklit, See the Stars, City Beat, Blue Velvet, Cool Drive e Softly Rockin';
– mauve:Magic Moor, A Different Vibe, Swing Out, Pretty Jazzed, Subtly Elegant e Lightfully
Per le labbra troviamo i Kit Rossetti Mac (euro 31,00). Sono cofanetti da tre rossetti colati da utilizzare con pennello labbra singolarmente o mixandoli. I kit sono:
– coral: Pure Zen, Coral Bliss e Lady Danger
–pink: Saint Germain, Let's Rendezvous e Wined + Dined,
– viva glam lip palette: Viva Glam I, Viva Glam II e Viva Glam V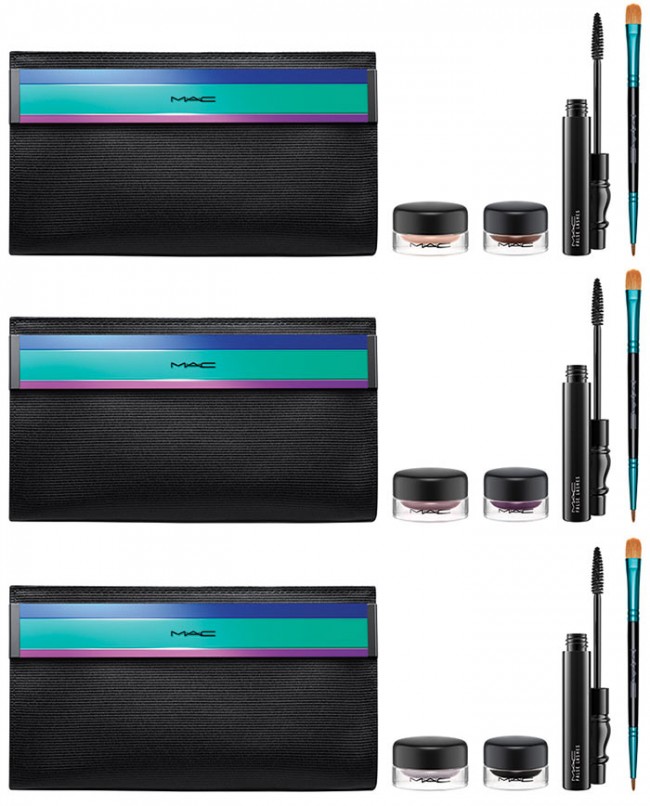 Nella Mac Enchanted Eve troviamo gli Eye Bag (euro 66,00). I cofanetti contengono tutto il necessario per un trucco occhi completo, dall'ombretto in crema agli eyeliner fino al mascara:
–plum: Pro Longwear Pain Pot Stormy Pink, il Fluidline Macroviolet e il Mascara False Lashes Black
– neutral: Pain Pot Painterly, il FluidlineDipdown e il mascara False Lashes Black
– smoky: Pro Longwear Paint Pot Dangerous Cuvee, il Fluidline Blacktrack e il Mascara False Lashes Black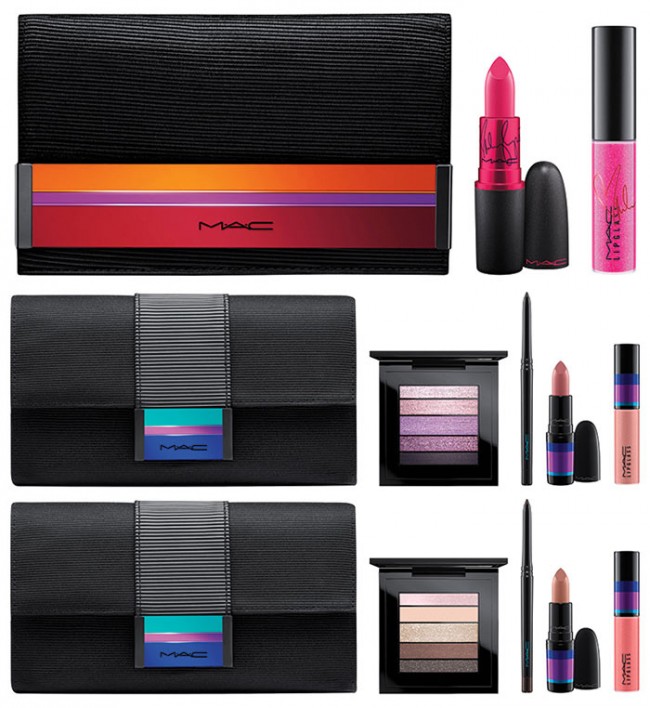 Ma nella Mac Enchanted Eve troviamo anche i lip & eye Bag (euro 62,00). Una perfetta idea regalo che contiene sia una palette occhi, che una matita occhi, che un rossetto e un lip gloss. Ecco le varianti:
–pink: palette Pinkluxe, la matita occhi Graphblack, il lipstick Soft Savour e il Lipglass Life Fantastic
– copper: palette Copperluxe, la matita occhi Photogravure, il rossetto Mac The Right Note e il ligloss Rocket to the Moon
Viva Glamorous (euro 37,50) contiene al suo interno la linea Viva Glam Miley Cyrus con il rossetto Viva Glam Miley e il Lipglass abbinato.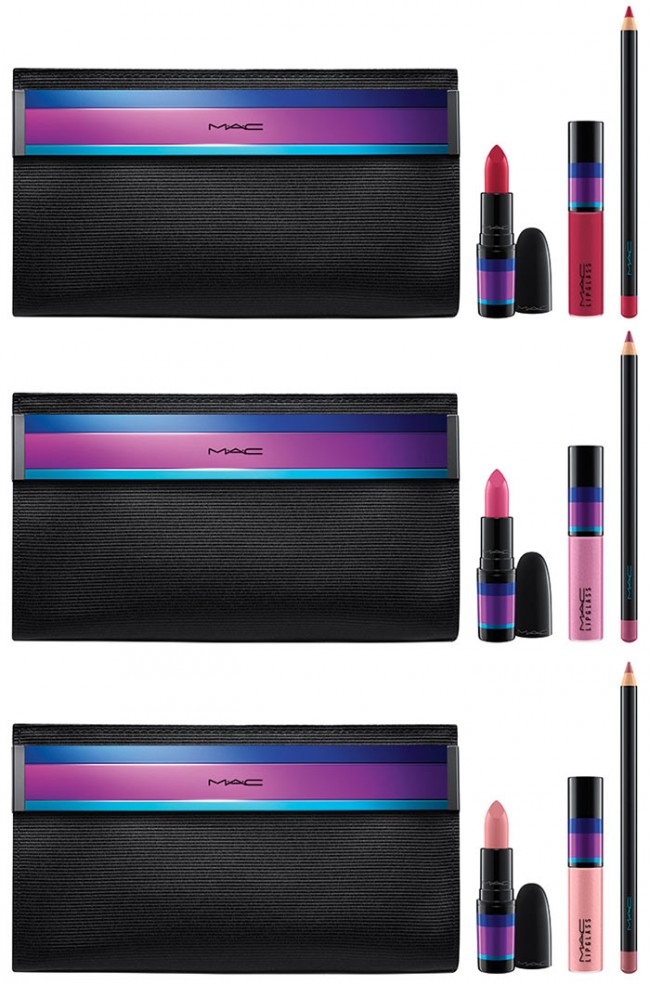 Troviamo anche le lip bag (euro 44,00) che sono tre trousse dedicate al trucco labbra con all'interno un rossetto, un gloss e una matita. Ecco le varianti:
– pink: rossetto Goodbye Kiss, Lipglass Frozen Dream e la matita labbra Just Wonderful
– nude:lipstick Creme Cup, lipgloss Cherry Blossom e la matita Boldly Bare
– red: rossetto Pretty Irresistible, Lipglass A Favourite Flame e la matita Beet.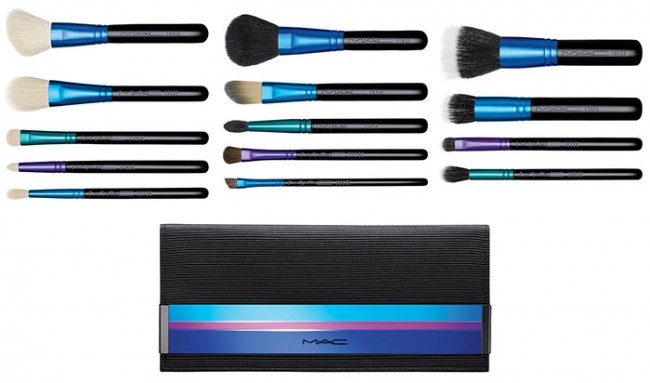 Concludiamo la carellata della Mac Enchanted Eve con i set pennelli (euro 62,00). Vi troviamo:
–kit basic: pennelli per occhi e viso
– kit essential: pennelli professionali viso e occhi
– mineralize: pennelli duo fibre per i prodotti minerali
La collezione è arrivata negli store il primo novembre 2015. E voi cosa aspettate a comprarla?